Since its founding more than 200 years ago, the University of Virginia has become one of the nation's leading public universities.
Through many changes and advancements, the University has never abandoned its mission to serve the people of Virginia, championing the advancement of knowledge to benefit the region and the world.
UVA continues this tradition of service by acting as a leading economic engine for its home state.
In 2016, an independent research firm studied the University's effect on Virginia's economy, and the resulting full report confirms UVA's significant contribution to making Virginia one of the best places to live and work in the country.

At a glance
By using IMPLAN, an accepted method for quantifying economic impact, the report determined UVA's total impact on the Commonwealth in fiscal year 2015 as follows.
Defining impact
Economic impact has three types: direct, indirect and induced.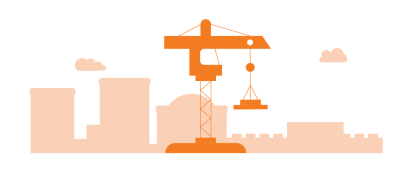 Direct impact: Operational spending on goods and services within the region — including employee compensation, employee spending, and spending by patients and visits to the region. $2.9 billion of direct impact in 2015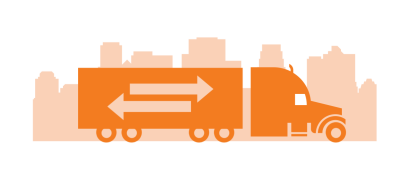 Indirect impact: Spending on goods and services by the companies and people who do business with the University of Virginia. The payments to suppliers lead to payments to other suppliers, who pay other suppliers, and so on, creating a ripple effect.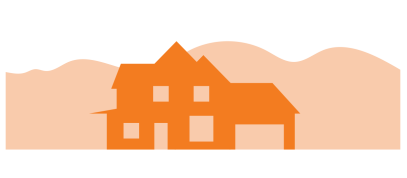 Induced impact: Flowing contributions back to the economy. The University's economic contributions don't end when it pays employees or suppliers. That money is filtered back into the economy by household and vendor spending and greatly increases the University's impact. $3 billion of combined indirect and induced impact in 2015
Making our presence felt
Economic impact may be measured in numbers, but it is felt in the lives of Virginians across the Commonwealth in a number of ways.
Jobs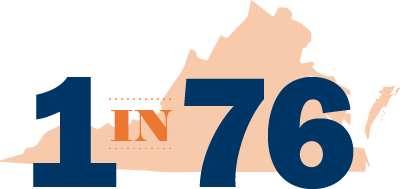 The University of Virginia accounts for 51,653 jobs across the Commonwealth. One in every 76 jobs within the Commonwealth is either held directly by a UVA employee or is supported as a result of UVA's presence.
Research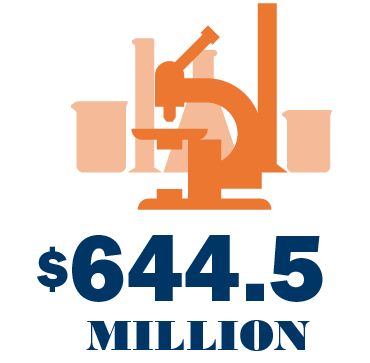 As a major research institution, the University of Virginia pursues groundbreaking discoveries that hold the promise to advance the human condition. The University's research enterprise generates $644.5 million in annual economic impact and is responsible for one in five jobs created or supported by the University. Our research enterprise also serves to attract funding, high-skilled jobs, and additional R&D business to the Commonwealth.
Technology and entrepreneurship
The National Venture Capital Association ranked Charlottesville as the fastest-growing venture-capital ecosystem in the U.S. The University has contributed to the city's culture of collaboration and innovation; in FY17 alone, seven new startups were launched by UVA faculty or as a result of UVA innovations. Since 2006, 60 UVA-related startups have been launched.
Community support
UVA students and faculty support local communities through volunteering and philanthropic giving on an impressive scale. Through Madison House, more than 4,000 students volunteered for 105,000 hours in 2017-2018, serving 185 community partners in the Charlottesville area.
The estimated value of UVA faculty, staff, and student volunteerism for local charities is $51.4 million.
UVA faculty and staff are responsible for $18.9 million in annual charitable donations, and UVA is the top contributing state agency to the Commonwealth of Virginia Campaign, with more than $13 million contributed since 1999.
Visitors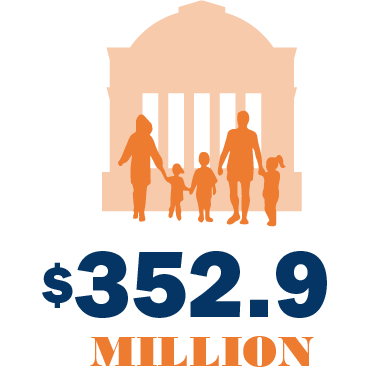 The University is a destination for visitors from inside and outside the Commonwealth. Athletic events, entertainment at the John Paul Jones Arena, the Virginia Film Festival, and the David J. Prior Convocation Center at UVA-Wise bring hundreds of thousands of visitors to Charlottesville and Wise each year, generating spending for area businesses. In 2015, area visitors to University events created $352.9 million in economic impact, supported 3,918 jobs and generated $23 million in state and government revenue.
Entrepreneurial alumni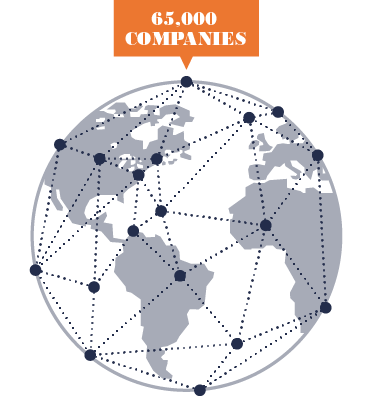 UVA alumni make significant contributions to local, state, national, and international economies, with approximately 91,530 UVA alumni currently working within the Commonwealth. UVA alumni have created approximately 65,000 companies worldwide, with an estimated 2.3 million people employed at companies founded or directly supported by UVA alumni. The Commonwealth has benefited significantly, with over 371,000 of these jobs held at companies operating within Virginia. Virginia-based companies started by UVA alumni produce about $395 billion in calculated annual revenues and spend $279 billion per year.
Tax revenue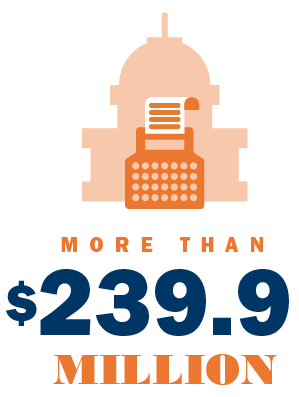 Through local spending and its direct and indirect support of employment, the University strengthens the local and statewide tax base, generating more than $239.9 million in state and local government revenues annually.
Creating impact from all angles
The economic impact report examined UVA's Academic Division, the Health System, and the UVA College at Wise. The numbers shown above demonstrate the collective impact of the University as a whole. Below, the University of Virginia's impact is broken down to illustrate each organization's impact on the Commonwealth.
Academic Division
Example of impact in action
iLab is a notable example of how UVA's Academic Division benefits the Commonwealth. UVA's iLab fosters collaborative entrepreneurial ventures between students, students and faculty, and students and the community. Since summer 2017, iLab launched 22 new ventures, which raised more than $1 million in outside capital.
Health System
Example of impact in action
One of the most beneficial ways UVA's Health System positively affects Virginia is the Karen S. Rheuban Center for Telehealth. The Karen S. Rheuban Center for Telehealth provides access to specialty medical services otherwise unavailable to patients in communities throughout Virginia, as well as around the world. By the numbers, the Center has:
Established 152 telemedicine partners across Virginia
Supported more than 50,000 clinical patient encounters
Provided care in more than 60 medical subspecialties
Saved Virginia patients 16 million miles of travel
UVA College at Wise
Example of impact in action
UVA's College at Wise greatly impacts the state through Opportunity SWVA. Opportunity SWVA is a collaborative effort led by UVA-Wise that empowers entrepreneurship in Southwest Virginia. Based on the tenets of building the entrepreneurial ecosystem and developing a culture of entrepreneurship, growing entrepreneurs and nurturing new ventures, and promoting the region as a vibrant entrepreneurial hub, Opportunity SWVA has supported over 390 small businesses and entrepreneurs as well as the creation of over 30 business plan competitions.
Download the full report.
This piece is based on an original story published at UVA Today.